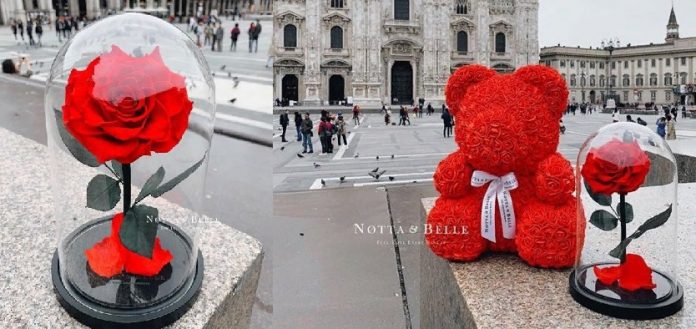 Making a gift to your beloved is a real happiness. It's nice to see a happy smile and shining eyes, realizing that you are the cause of pleasant emotions of a loved one. A romantic gift to a girl is not just a tribute to tradition or fashion, but another opportunity to confess her love. At least, that's how girls perceive gifts. Many people find it difficult to choose such gifts. Choosing a good gift to a girl is a real art, and not everyone manages to master it at once. Many men do not hesitate and use the template advices of their friends or buy the first thing that comes to mind. But the recipient may think that the guy is just too lazy to look for something interesting and even can be offended. To avoid this situation, choosing a romantic gift for your girl should be made in a right way.
It is impossible to remain indifferent at the sight of a luxurious bouquet of fresh flowers. A bright palette of colors can fascinate any connoisseur, and the flowers tell something about the feelings of the giver. They are able to tell us some romantic story, communicating with us in their unique language. Girls love flowers, but if you want to impress your girlfriend, give her a rose in a glass. The original design and durability of this gift makes it unforgettable.
In the last few years, flowers in glass have become a new trend in the field of floristry and gifts, quickly gained popularity due to the unusual appearance, long life and reasonable prices. Their popularity is easily explained – any of us has a great desire to buy flower that will remain fresh for several years than the bouquet that will wither in a week for the same money!
Buying flowers in glass is a great choice for any occasion. This is a non-banal and beautiful gift that will not only impress any girl, but also will decorate her home or workplace.