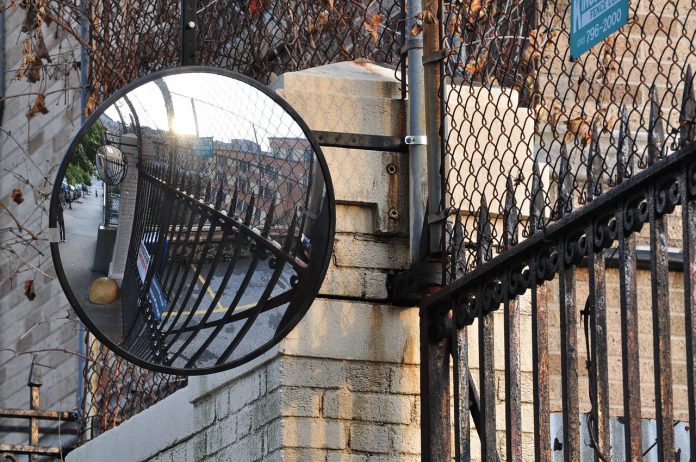 Photo by Pixabay.com
Security mirrors are a means of improving visibility, presence of which allows you to avoid many unpleasant incidents. They can be used both indoors (for security, personnel control), and outdoors (to prevent traffic accidents).
It would be a mistake to believe that security mirrors are needed only in garages or in the subway. Modern production involves their use inside industrial premises and on the territory of the enterprise, where there are a lot of industrial vehicles – electric forklifts, electric cars, forklifts, freight carts, tractors, etc., which are objects of increased danger, as well as for residential buildings to prevent theft.
Depending on the purpose, there are several groups of similar mirrors:
for premises;
for the street;
to solve special problems
All mirrors are made of durable and lightweight materials that are highly resistant to external influences. Over time, the glass does not crack on them and does not tarnish. High-quality models from well-known manufacturers provide good visibility and high definition images. Outdoor mirrors are characterized by the highest wear resistance: they are designed to work in conditions of strong temperature drops and can withstand the effects of atmospheric phenomena. Usually the products are delivered complete with a bracket.
Security mirrors significantly expand the capabilities of security: they become clearly visible places previously inaccessible for observation. They are especially effective in combination with video cameras.
Models for the street are placed in parking lots, intersections, turns, in unheated large warehouses – in general, in almost all places where vehicles move. They improve visibility for drivers and pedestrians, which significantly reduces the likelihood of an accident. As already mentioned, such mirrors have improved characteristics in terms of strength and reliability.
For hard-to-reach spots in the house inspection mirrors are also used. They help to look into such places where nothing is visible without this device and greatly facilitate the task of finding the necessary thing.
Special purpose products are used in hard-to-reach places requiring inspection. They are actively used to check warehouses, construction sites, vehicles, etc.
One of the significant advantages of such mirrors is their cost. Compared with the vast majority of other modern means of protection and control, they are relatively inexpensive. If we take the ratio "price-quality", then this is certainly one of the most profitable options.
Indoor mirrors must not be installed outdoors. This is the most basic operation requirement. Only street (road) mirrors can be installed outside. Damage to the mirror coating due to adverse weather conditions is not excluded, including mirror instability due to strong winds when installing a street mirror, which is intended only for indoor use.